Happy Red, White and Blue Day! Here is the perfect cookie for you to bake for your holiday meal.
These come together quickly and are an easy and portable dessert everyone will love. They present the opportunity for you, the health-conscious person, to practice portion control. Take small bites and savor one or two cookies knowing you have not blown your healthy eating plan. Eat the whole batch and that's another story!
Red, White and Blue Cookies
1 1/4 cups unbleached flour
1 cup old-fashioned oats
1/2 teaspoon baking powder
1/4 teaspoon salt
1/2 cup butter or transfat-free margarine, room temperature
1/2 cup sugar
1/3 cup packed light brown sugar
1 egg
1 teaspoon vanilla extract
1/2 cup dried blueberries
1/2 cup dried cranberries
1/2 cup white chocolate chips
Preheat oven to 350°F. Line baking sheet with parchment or a Silpat liner (if neither is available, use ungreased baking sheet); set aside.
In small mixing bowl, combine flour, oats, baking powder, and salt. In large mixing bowl, beat butter and sugars together until well combined. Add egg and vanilla and beat well. Add flour mixture and beat until just combined; batter will be stiff. Stir in blueberries, cranberries, and white chocolate chips.
Form balls with your hands, a little more than one inch diameter, and place on prepared baking sheet. Flatten with fork and put in oven. Bake 11 minutes, or until edges start to turn golden. Let cookies cool 5 minutes on baking pan, then remove to wire rack to cool completely. Makes about 45 cookies, 2 points plus and 74 calories each.
* * *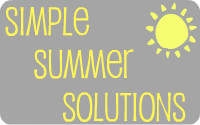 Don't forget
: today is the "linky party" for all of you to share a Simple Summer Solution recipe or other tidbit if you'd like. Click below to participate.