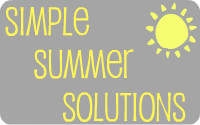 Here is my Simple Summer Solution! No need to stop at a fast food restaurant for a quick thirst-quenching summer drink. Just have a few simple ingredients on hand and blend away. It is fresh fruit at it's best. This recipe saves time and money and provides your family with true refreshment. Enjoy!
Berry Citrus Summer Slush
8 ounces strawberries or blueberries
1/4 cup freshly squeezed lemon, lime, or orange juice
1/3 cup sweetener of your choice (i.e. sugar, honey, agave, Splenda, or Truvia)
1/2 cup water
1 cup ice cubes
Citrus slices for garnish, optional
Place all ingredients except citrus slices in blender container. Blend 30 to 60 seconds, or until ice is crushed. Pour into three glasses and garnish, if desired. Makes 3 servings, about 1 cup each. For those of you on Weight Watchers, each serving has 0 to 3 points plus and varying calories, depending on the fruit and sweetener used.
Friday is a "linky party" for all to share!